About the Team at CPR Florida
Learn to be a lifesaver! You will be taught by real professionals the skills of cpr, how to use an aed, how to do the heimlich maneuver and how to run a code and use the proper drugs for acls and pals in a cool, stress free atmosphere.
Convenience: Sign up online for daily hands-on classes. For the past 19 years, our students voted and we are proudly ranked as Florida's Premier CPR Training Site and AED Distributor. Our cool instructors are all lifesavers who truly know how to do CPR, AED, BLS, ACLS, PALS & First Aid Training Classes, Defibrillator Sales (AED's) and PET cpr and first aid.
We are accredited, licensed and insured and teach American Heart Association (AHA), ASHI and Red Cross certifications. Use our site to review CPR skills and information, purchase supplies, or register for cpr aed bls acls pals first aid certification classes. To buy Philips, Medtronic, Samaritan, Zoll, Powerheart, Defibtech AED's or Emergency Oxygen, visit our AED & CPR Supplies Store.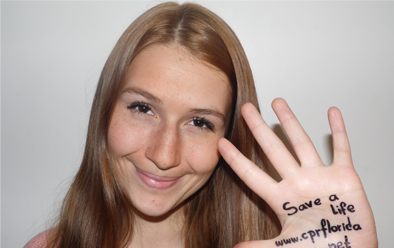 Same day certifications in: Get your Ecard the very same day for BLS, CPR and First Aid, AED, Bloodborne Pathogens, Oxygen Administration, PHTLS, Professional Rescuer, Pet cpr and first aid, ACLS and PALS.


Offices and Training:
Offices in West Palm Beach, Coral Springs, Miami, Pompano Beach, Tallahassee and Fort Lauderdale or we travel to you. If you do not see a date or class you need, make sure you
email or call us.
If you prefer, we will come to your own facility in Florida for groups of six or more or for a private fee. We make it easy and stress free for a first time, renewal or recertification class.
Satisfaction Guarantee
"CPR Florida" has taught over 194,000 students and is the #1 ranked CPR Training Site 19 years in a row including 2022. Each class is fun, stress free and educational or your $ back guaranteed. You will be happy to know at the end of your class, you immediately receive your certification card and a free cpr pen and cpr keychain in case of an emergency. Learn cpr bls acls pals first aid near me!